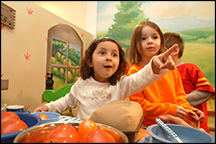 StoryBus: A Children's Museum on Wheels!
Created by master teachers and Kohl Children's Museum designers for preschool and kindergarten students, StoryBus brings play-based learning to more than 15,000 Chicagoland children annually.

A children's museum that comes to you!

• Literacy, math, and social skills

• Interactive

• Project based

When children climb aboard the StoryBus, they're stepping into one of their favorite stories!

StoryBus is free to schools in the Chicagoland area. Reservations must be made by teachers or school administration.

StoryBus is a project of the Dolores Kohl Education Foundation.